What's In A Name?
Jon Madof talks about his decades-long association with John Zorn, his bands Rashanim and Zion80, and the problem of trying to classify music as "Jewish"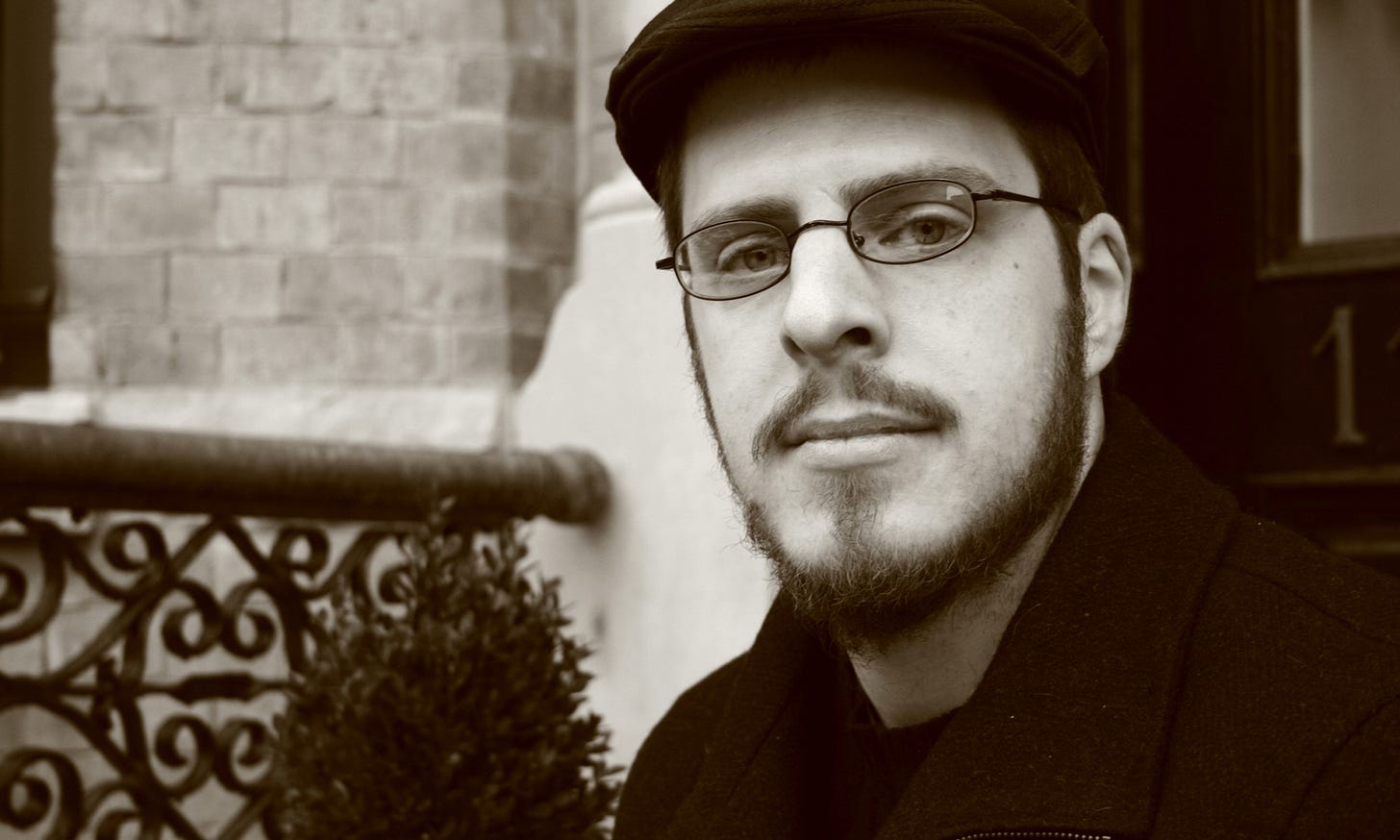 Jon Madof, a New York-based composer, guitarist, and label co-head, first became interested in Jewish music by way of noted composer, improviser, and musical maverick, John Zorn. "Hearing Zorn connected punk rock energy and jazz sophistication with these super-Jewish melodies," Madof says in our interview below. "It didn't sound like they were looking backwards. It didn't sound hokey."
That synthesis, an adventurous blend of cutting edge sounds and traditional musics, is a hallmark of Madof's career. He moved to Brooklyn in the early 2000s, started his trio, Rashanim, with bassist Shanir Blumenkranz, and drummer, Matthias Künzli (Rashanim is Hebrew for noisemaker or grogger), and began his now almost 20-year association with Zorn, recording original music for Tzadik Records, as well as selections from Zorn's various Masada Books, which are part of Zorn's Radical Jewish Culture series. Madof also played with Matisyahu, filling in for guitarist Aaron Dugan, just as the singer's career was beginning to blow up.
"We were playing songs from Matisyau's first album, the album that was on J Dub," Madof says. "Those shows were really fun, and very different from Radical Jewish Culture shows. We were lucky if we could get 20 people out to a Rashanim show. With Matisyahu, we played this great club in Brooklyn called Southpaw, and he sold it out."
Madof's main focus throughout the last decade—in addition to cofounding Chant Records with Blumenkranz—is Zion80, a 10-piece ensemble that fuses the cantorial melodies of Rabbi Shlomo Carlebach with the afrobeat rhythms of Fela Kuti. "I had to learn about what afrobeat was really about," he says. "I still am a novice with it, but I learned about how the clave works, the harmonies they use, and things like that. Carlebach's melodies sat right on top of the rhythmic structure, and I realized that I could do that with every Carlebach tune."
I last spoke with Madof for Plus One Me about his work with Chant Records. Here we focused on his experiences with Jewish music, the problems with trying to determine what classifies a style, or an artist, as "Jewish," the story behind Zion80, and the fascinating parallels between the lives and philosophies of Carlebach and Kuti.
What was your introduction to Jewish music?
Zorn was my entry point into Jewish music. My parents are pretty hardcore music fans, and I was into classic rock and then punk rock—like the Dischord scene, Black Flag, and stuff like that—and also indie stuff like Jane's Addiction and the Pixies. I happened upon a little bit of jazz, and then somebody told me about Zorn. I went to college in 1992, and that's when I started getting into Zorn—I think his Masada project launched in '92 or '93—and I had never heard Jewish music that I liked before that. I certainly didn't know anything about klezmer, Israeli folk music, or even Carlebach or any religious music. It was not on my radar at all. Hearing Zorn connected punk rock energy and jazz sophistication with these super-Jewish melodies, and it didn't sound like they were looking backwards. It didn't sound hokey. I went to school at Oberlin in Ohio. I moved back to Philly—to where I grew up—and then to New York. I quickly became aware of all the Knitting Factory stuff. Knitting Factory Records had the Jewish Alternative Movement. I found about Hasidic New Wave, the Klezmatics, but also other stuff, like Tiny Bell Trio, who did Eastern European music, and then bands that were doing Balkan music, which was of a similar world. From there, I started getting into more traditional music.
Traditional, as in more religious?
Yeah, and stuff outside that. It was through Carlebach, although I didn't know who Carlebach was for a while. It was one of those things where somebody mentioned it, and I didn't know what it was. But then he sang me 10 songs, and I knew them all because my wife and I had started going to shul. I just thought they were the melodies that were always there. But all these things were happening at around the same time. I first heard about Zorn in the early '90s, and started getting interested in Judaism, religiously, in about 2000.
The Radical Jewish Culture scene was peaking at that time as well. Was it a cultural thing, or was it something musical? Meaning, were people looking for ways to express their Jewishness, or were they simply exploring Jewish music?
Radical Jewish Music itself, to me, referred to the music, which was specifically what Zorn was putting out under that imprint on the Tzadik label. But it was certainly connected to things like the Downtown Seder that Michael Dorf did, and may even still does. Hearing the Klezmatics, and Lorin Sklamberg singing in Yiddish, I could tell that some of their music was religiously-themed, but to me, it felt mostly like a musical thing.
Was Zorn exploring that "Jewish" scale? It has a lot of names, though the technical name is the Phrygian dominant scale.
Yeah, and other modes of it, too. He has always been very adamant that he wants to decouple the idea that "klezmer equals Jewish music." Radical Jewish Culture was Jewish music beyond Klezmer. Although defining "Jewish music" is always a hard thing to pin down.
What defines it for you?
I don't know. There are some things that definitely are Jewish music, and some things that are definitely not Jewish music. But so much of it is a gray area. For example, a jazz band playing "Bei Mir Bist Du Schön" would not be Jewish to klezmer musicians in 18th century Poland, but it's very Jewish in America. The Andrew Sisters sang the lyrics in Yiddish [just the chorus]. It's hard to pin down what it is, but it's a certain feeling. Certainly that scale, although that scale also exists in many types of music that are not technically Jewish.
A Jew from Eastern Europe didn't think of himself as creating an indigenous Jewish music. He was playing the music of his time, but through the filter of his background and experiences. You could make the same argument that a Jew today, playing jazz or hardcore or whatever, but from his perspective as a Jew, is making Jewish music as well.
That's true. For example, I grew up with everything from my parents' tastes to Fugazi, and I am going to put that together with that Jewish scale because those are the things that I hear every day. If I am in shul or singing a song, I am [interacting] with Jewish melodies without even noticing. If I then turn on Spotify, I am going to listen to the music that I like. It gets mixed in. It's bringing one thing to another, or expressing something that we've taken from someplace else through our journey and our language, whether it is musical or otherwise, to the current context of it.
When did you start Rashanim?
I started that when we moved to New York in 2000. I wanted to have a band that was doing not only Jewish stuff, but also Bulgarian, Macedonian, and other eastern European music.
But that was your first Jewish band.
Yeah, I had never played any Jewish music. Our lineup had different configurations for a while—there were a few different horn players who played with that band—but by the time we started working with Zorn, it was a trio.
Were you playing original music, and also Zorn's stuff?
We did Zorn's stuff and some traditional music. We did four albums and one of them is a Masada album. The others are a mix of my music and traditional stuff.
How does the Masada stuff work? Does Zorn pick the songs? Do you get time to practice?
He assigns you what you're going to play. But you have time. He knows I love arranging, and he said, "Make this yours, but these are the songs that I think will work the best." When he gives you a song, you have to play it in that key. You can't switch the key.
He's particular about that?
Yes, very [laughs]. That's particular, and also the melody has to be clear and audible. The parts of the composition that are there, and that are clear, have to be audible. I approached it—especially with the Zion80 Masada records that I did, and we did two of those—I imagined that the songs were familiar melodies, and that I was playing an arrangement of a familiar tune. It wasn't some highbrow thing, as in, "I am going to take a folk song, put it in 14, and have counterpoint." I wanted it to be more organic.
What were your influences for the original and traditional music that you did?
It was all these influences, but it's funny, because parallel to this, it was taking me a long time to get back to my love of rock music. I was a jazz snob—for lack of a better term—and a certain type of sophistication was the only thing that seemed valid to me. It paralleled growing up and getting older. I have heard many people say that the music that will always speak to you is the stuff you listened to in your formative years. That will forever be the best stuff. But I pushed that away and rejected it for a long time. Rashanim, for me, was also a process of me reconnecting with that stuff. For so long, I thought I was a jazz guitar player, and I am not. I might have learned that stuff, but deep down, without thinking about it, I want to play a power chord with distortion. That feels and sounds more like me than when I am trying to be a sophisticated jazz player.
Were you exploring the music of older artists like Dave Tarras and people like that?
Yes, eventually, and thank God, because that stuff is so great. But again going back to what's genuine, when someone would talk about a rare Duke Ellington recording from 1939, for example, I listen to that stuff, and it sounds old to me. I know intellectually, it's great, but sometimes, I don't want to hear old scratchy recordings. I'd rather listen to Slayer, or Zorn, or Ornette. But I got really into some old recordings, like Smithsonian-type field recordings of Bulgarian music. I listened to an album called Song of the Crooked Dance. It's magical, dark, and very evocative. I checked out other old recordings, too, like a few Naftule Brandwein things, Dave Tarras, and some others. But I had to get into it through Zorn.
Otherwise it would have sounded dated to you?
It wouldn't have felt relevant to me.
With the Jewish music you were exploring, what was the approach to meter and time?
I have always related to music on a rhythmic level. Harmony and melody are secondary to me. I pay attention to the rhythmic aspects. When I moved to New York, I had a lesson with Brad Shepik—he was in the Tiny Bell Trio, Dave Douglas' trio with Brad and Jim Black—and he showed me this song that was in 7/8. I was totally mesmerized by it, in that you could organize something like that and it would have such a different feel. The European Jewish and klezmer stuff was usually in three or four, but definitely has a different rhythmic structure to it. The middle eastern stuff, and eastern European stuff—like the Crooked Dance—is in times like five and 13. A lot of Turkish music has that, too. I fell in love with that stuff. Zorn also incorporates a lot of odd time signatures into the Masada music. The last Zion 80 record we did, it might have a few things in 4/4, but it's mostly Zorn's odd metered tunes.
What is the genesis of the Zion80 project?
I had a flash. It was on Shabbos—it must have been 2010—I had the album, the Best Best of Fela Kuti. It's a double CD. I was listening to that all day, and then Shabbos came in and I was getting ready to go to shul. A Carlebach melody popped in my head, but the Fela groove was there. I thought, "Jewish afrobeat. That would be cool." I went to shul and asked the chazan (cantor) in our shul at the time if he ever heard of Jewish afrobeat. He said, "No. Why?" Right after Shabbos I checked to see if anybody had done it, which they hadn't, and I went from there exploring it. A number of serendipitous things happened. I already had gigs lined up at the Stone, Zorn's club, which has since moved to be housed at the New School. It had its own space then, and I was signed up to do a residency the next year, which by then, was 2012, but I didn't know what I was going to do. Then Greg Wall (rabbi and New York-based saxophonist), at his shul, did this Christmas Eve for Jews program with Chinese food and music. Zorn played, and I played with Zorn, and then a proto Zion80 played. Zorn said, "This is cool. You're on to something here. Why don't you expand this and do the residency with it." The residency was every Monday night for three months. It was amazing. We played, and that's how I workshopped the music for the first record. I brought all kinds of musicians in and by the end had settled on a band. The rhythm is what grabbed me when I heard Fela, and I love Shlomo Carlebach's melodies. Carlebach's tunes are not that sophisticated rhythmically, and Fela is really about the rhythm and that interlocking thing. The Carlebach melodies sat right on top of the rhythmic structure, seamlessly, and you could mess with the rhythm a little and still have the tune. We did the first record, which is almost all Carlebach songs, plus one song of mine. Then we did a Zorn record, and then another Zorn record.
Were you playing the Masada book to afrobeat?
Yeah, Book Two, and then Book Three, and Book Three was a big growth period for me. I worked closely with John in writing the arrangements. I am really proud of what the band did, and we've gotten to tour it a little bit, too.
How did the Zorn tunes, the ones in odd meters, translate to afrobeat?
That was a lot of the preliminary discussions that I had with John, and he said, "You don't have to make this afrobeat. That is there, but you can let your natural thing come out. If it goes in another direction, that's cool. Expand on that." I worked for a year on those demos, in GarageBand, plucking things out. I sent them back and forth to John, and a lot of my time was spent figuring out how to put an afrobeat thing to something that's shifting all the time. It was so much fun and so engaging. In GarageBand, you can try something 100 different ways. You can keep a 4/4 rhythm under a switching meter from five and seven and three and nine, but there will always be a four underneath. I love messing around with stuff like that.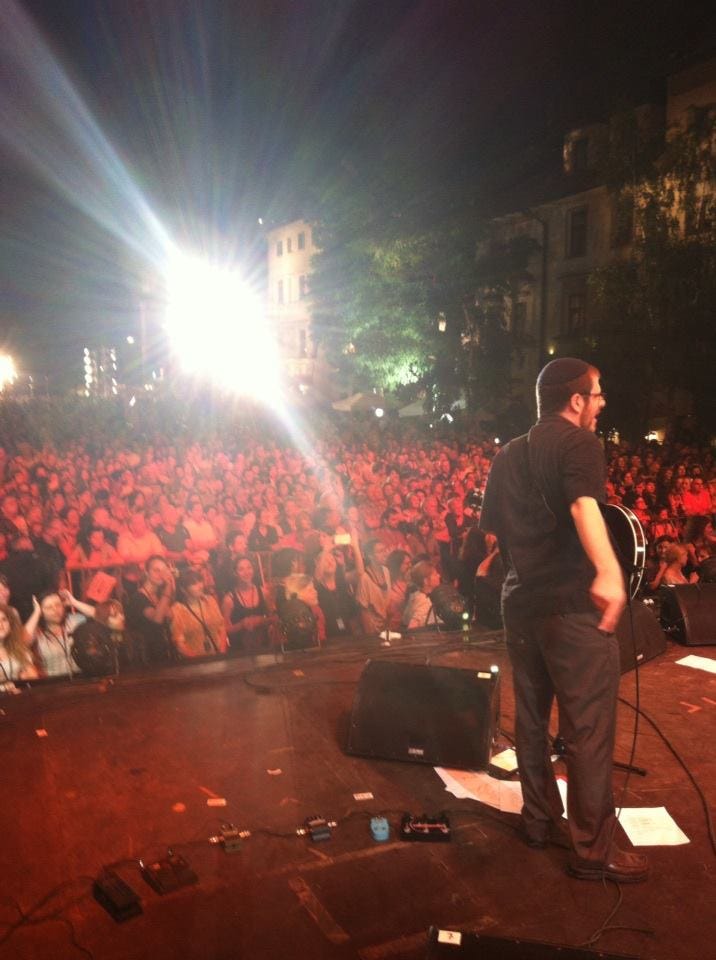 Kuti and Carlebach were both cultural icons, what are your thoughts on combining their music?
The first thing that comes up around Carlebach now is the #metoo stuff, which is obviously very disturbing about the abuse allegations made against him. But I have to say that I generally do not support the idea of "cancelling" someone's art—or whatever they've created—because of what they've done as people. There are certainly exceptions to that in some cases, but if we go down that path and commit to it, how do we know that Bach wasn't a horrible person? Or Shakespeare, or Darwin, or Louis Pasteur? I personally don't have an issue with listening to or playing Carlebach's music while acknowledging fully that what he [was alleged to have done] was horrible. At the same time, if someone chooses not to listen to my music because I play Carlebach songs, that's their choice and they have every right to that.
But as figures, as I started to think about Carlebach and Fela, I saw them in a very similar light, because both have this aspect of particularism and universalism. They are both artists who certainly transcended where they came from, or their particulars. But with both of them, you can see that the particular and universal are not opposites. They are two sides of the same coin. By embracing who they are, their culture, and where they came from—in their particular idiosyncratic ways—they were able to communicate in a universal way. For example, I remember when I was a kid, in high school, and getting into Bob Marley. I had the Best of tape, and I was singing along with the words one day. I asked my friend, "What does this mean, 'Mighty god is a living man?'" I had no idea what it was. I didn't know that he was talking about Haile Selassie, an actual person. But I thought that was cool, that he could make me want to sing that line, because the music was so good. It's so clearly emanating something universal, even though I didn't know what he was talking about. It's like that with Fela and Carlebach, too. It's not like listening to something, and you don't have a way in, which really spoke to me about both of them. Their years of when they were born and died are pretty close, too—the 1930s through the 1990s, more or less—and they both lived through tumultuous times, with the colonialist and post-colonialist thing in Africa, and the Shoah and coming to America for Carlebach, and the hippie movement.
They also each invented their own tradition. I heard an interesting interview with an author who wrote a book about Fela. He said, "These long songs, if you just listened to Fela, you would think that these were conventions of the genre, which were in place for a 100 years." But no, he invented that. With Carlebach, you'd think that super-hippie thing was all of Judaism. But no, that was what Shlomo brought to it. It was that hippie spirit and the ownership that he took over it.
True, Carlebach is a tradition, a nusach. If you don't do it right, they let you know.
And you know in two seconds if the person is coming from there. If you're in the groove, you know that this is Carlebach.
Photos: profile shot by Dari Carlebach / live on stage by Yoshie Fruchter.