Discover more from The Ingathering
A comprehensive look at Jewish music and spirituality
Over 1,000 subscribers
The Cultural Activism And Exemplary Musicianship Of Neta Elkayam
Vocalist Neta Elkayam talks about reclaiming her Moroccan heritage, the stories behind her various projects, and how traveling to Morocco reconnected her to Judaism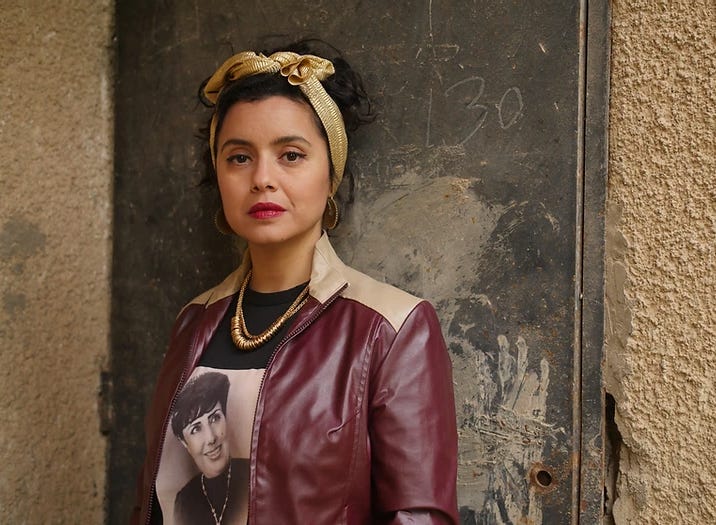 The history of the Moroccan Jewish community dates back to before the Islamic conquest of North Africa, and was significantly bolstered when Jews, fleeing the Inquisition in Spain, settled there in the late fifteenth century. It was a vibrant community, with its own customs, music, food, languages, and local dialects, and, following World War II—with a population of over a quarter of a million people—was the largest Jewish North African community. 
But that changed in the late 1940s. Inspired by Israel's founding and the dream of returning to the holy land, and compounded by rising antisemitism, tensions, and riots in cities like Oujda and Jerada—not to mention the changing political dynamics that accompanied the end of colonialism—Jews began to emigrate en masse, and by 1967, only about 5,000 Jews remained in Morocco. 
Most of those immigrants settled in Israel. They brought with them their unique culture, music, and traditions, and were settled in Israeli development towns like Sderot, Arad, and Netivot. They were also encouraged to assimilate and to abandon their distinctive customs, which, on some level, is what happened.
But lately there's been a resurgence of interest in rediscovering that heritage, and Neta Elkayam, an Israeli vocalist and granddaughter of those original immigrants, has been at the forefront of that revival. 
Elkayam, in addition to her cultural activism, is an incredible singer. She possesses an almost flawless sense of pitch, and her grasp of complex polyrhythms is intuitive and natural. She has dedicated the last decade to exploring the musics from different regions in Morocco, and has made an effort to master the various subtleties and dialects as well. Although, not being a native speaker doesn't always work to her advantage. 
"To a Moroccan ear, I still have an Israeli accent," she says. "I will never sound like someone who grew up in Morocco, because I didn't. But I am not trying to. I am just being myself and making an effort."
Elkayam's many projects include a contemporary reimagining of the music recorded at the Arènas transit camp of women from the Atlas Mountains as they made their way to Israel, a tribute to the great Moroccan diva, Zohra Al Fassia, and original compositions that draw from Andalusian and Mediterranean influences as well as liturgical and Western music. She also does numerous collaborations with artists like Ester Rada, Ravid Kahalani, Dudu Tassa, and many others.
I spoke with Elkayam via Zoom from her home in Jerusalem. We discussed the importance of celebrating the music and culture of the Jewish diaspora, the stories behind her Arènas and Zohra Al Fassia projects, the survival of Moroccan heritage despite aggressive attempts at assimilation, and how her first visit to Morocco inspired her to reconnect to Judaism and to settle in Jerusalem. 
What is your background, and how did you get into music?
I am from the southern Israeli town of Netivot. It used to be a development town—an ayarat pitu'ah—from the 1950s. My childhood is of Jewish, North African heritage. The way we prayed in the synagogue, the food we ate—everything was Moroccan. I thought that that was the regular Judaism. I didn't know that there were other ways, or cultures, inside Judaism. My parents sent me to a boarding school—because the education in Netivot was pretty bad—and for the first time in my life I met people from other streams of Judaism. Other people who grew up on kibbutzim, or with different backgrounds and ethnicities. I grew up in a religious house. We kept Shabbat. My parents are dati'im (religious). They sent me to a Bnei Akiva school (a religious Zionist school), and the traditions at the school were like being inside a melting pot. We didn't pray the way my father prayed. We had another style that was an Israeli style. It was a melting pot. The attitude was, "We're all Jews. We need to delete our different backgrounds, and create something new." For me, I felt a little bit strange. I missed the piyutim (liturgical melodies) of my family. But we also had a music course at the school. We learned music at a high level. I learned solfège, music theory, and everything, but when I wanted to perform, they told me no.
Were you allowed to perform at home?
At home, they never told me not to sing. It was the opposite, they encouraged me to use all the gifts God gave me. Of course, I didn't go to the synagogue and sit in the men's area. Until I was 11, I went with my father and I sat near him. Once I turned 12, I went to the women's section. I really loved synagogue, because it was an opportunity to listen to music, to listen to a live show. I was very upset when Judaism told me, "Now, because you are a woman, there is a rule that you cannot sing, you cannot be in the front." It was something that kept me away from going to synagogue. But slowly, I came back to sing piyutim, songs of praise, and traditional Jewish North African songs. When I turned 30, I started to do music as a career. I started late, I know, but I was a late bloomer.
Were you trained as a vocalist? Did you learn proper breathing techniques and things like that?
Not from the beginning. When I started to perform, I figured that I have an instrument inside my body, and I need to practice it. After I started touring around the world, sometimes I got into situations where I lost my voice. I needed to learn how to keep it, how to control it, and not be controlled by it.
Did you take lessons? 
I took lessons, and I still do. I practice every Sunday, because after Shabbat, when you rest, everything becomes more relaxed. But the voice needs to be warmed up. It is a way of life, and you need to practice to keep it alive.
At home, did you speak Arabic or Hebrew?
Arabic was around me, but nobody actually talked to me in Arabic. They used to gossip between themselves so we couldn't understand. My grandmother spoke better Arabic than Hebrew, and in order to understand her, I remember telling her, "Please, don't make so much effort in Hebrew. Let me learn your language." Also, I think, because I had a musical ear, every foreign language was magical to me. When the Russian immigrants came to Netivot in the 1990s, I was charmed by the sounds of the different languages, and I started to sing in Russian. For me, I love everything about the Galut (the diaspora). I was trained to be only Israeli—only very proud and very patriotic—but I believe we need to also celebrate the thousands of years of Jewish life that came before us. I don't want to abandon or cut out the old traditions, the universalism of being a Jew. Jews used to go anywhere, learn languages, go without borders, and now we're stuck here [laughs].
Besides singing in Russian, have you looked into other diaspora musics in addition to your Moroccan heritage? 
Moroccan music is something that's really big. If you look at the history, you have northern Morocco, which is influenced by Spain, and the flamenco and Andalusian music which came from Spain 500 years ago. When you go further south, in the big cities like Fez, you find all the sacred music, music that's also influenced by the Middle East. When you go even further south, you encounter the African music, the afrobeat, and the Atlas Mountains, which also has different tribes and different dialects. For me, every time I think to myself, "That's it, I am done being Moroccan. I know everything. I just want to be myself now." I find another treasure. These were musical treasures that Jews used to practice, sing, write, and compose.
What's a treasure you recently discovered?
My most recent project focuses on the Atlas Mountains. I found some old tape recordings [field recordings] from the archives of the national library. They were recorded in the 1960s, in Grand Arénas, which was the name of the transit camp that used to be located in the South of France, in Marseille. Most of the immigrants from North Africa, and even some Holocaust survivors, went through this camp. My new project is called Arénas, and is named after this transit camp. This music, which is like tribal music, used to be sung by women, but all together. They used to improvise sentences, and these songs were part of the circle of Jewish life. There were songs they sang when kids were born, brit milah (circumcision) songs, marriage songs—the process of marriage could last for a year, and there were a lot of ceremonies inside that year—and the mikva (ritual bath). It is Jewish music. They found a way to practice Judaism as women in a world of men. The men had synagogue. They had their songs and their prayers. But women also wanted to practice Judaism. So they had those songs. A lot of them were songs about pilgrimages to the graves of tzadikim. There used to be a whole celebration of taking their bags and tents and traveling to the tzadikim. It was called "ziyara."
Does ziyara mean visiting graves? 
Ziyara means visiting a holy place. You can make ziyara to the Kotel, the Jewish synagogue in Prague, or the grave of Rebbe Nachman of Breslov. Ziyara means making a pilgrimage to a holy place. The Muslims also call it ziyara, but they have another word, too, which is Haj, and that's what they say when they go to Mecca. When I am in Morocco, the Moroccans laugh about us. They tell us Jewish Moroccans, "Where did you go? We thought you were just making Haj and then you were going to come back. But you went to Jerusalem, stayed, and you never came back. Why?" It is nice the experience we have when we go to perform in Morocco. The third generation is exactly like us, and they are starting to miss the past. 
Do they miss the Jewish culture that was there? 
They miss the Jewish culture, but they consider it as a part of their own culture. In Poland, I get that a lot, too—we went three times to the Jewish Culture Festival in Krakow—and I am connected to the idea that we need to take a lot of inspiration from our past. We need to take back what we are losing from this idea that the Galut is not ok. It is just a bad idea. We need to love all the [forms of artistic expression, like music, that we created while in exile]. Creation is something good, and we need to learn from it. For example, searching for the women's voice in North Africa, I discovered a lot about my own heritage, and about the way women used to live as Jewish women in Muslim countries. 
You learned about their culture and lifestyle? 
How they dressed, how they sang, and the topics they sang about. When I understood that most of the topics were connected to the Jewish life, brit milah, weddings, even death—they used to sing like the old ladies in the bible when people died, they used to weep, and they had choreographed performances to that. It's amazing for me to discover it. It is art that is connected to life. It is not like, "This is art, and this is our life." No, it is something that I found in my heritage that is really strong, that life and art are interconnected. You cannot separate between them. Every grandmother knew how to invent songs. Maybe it was a way to accompany the time as they did the laundry, cooked, and did all the "women's roles" that they needed to do. But still, they had the spirit, and the freedom inside their role to improvise, and fill their life with art. Even though they were oppressed, of course, by men [laughs].
Are those field recordings of unaccompanied singing, or did they have instruments, too?
No. They were immigrants, and a professor went to their transit camp to record cultural treasures. He found those women from different places in the Atlas. I can just imagine that he took them to a silent room, maybe in the kitchen—sometimes you hear the dishes and the children crying—and he said to them, "Sing me a song, something from your village." Every time they start by saying, "Yes, but I am alone. I cannot do it alone. I have to do it with my friends." I found those lonely voices, and it affected the way I perform it.
Do you do it as a solo performance? 
I have a whole show inspired by those songs. I found out that I can create the absence of the tribe by putting my voice inside the keyboard. My husband, Amit Hai Cohen, and I, we work together, and he is my partner in my musical projects. He samples my voice into the keyboard. When he plays the keyboard, it sounds like a tribe of one woman. Musically, that is how, on the one hand, I can give the listener the feeling of the togetherness, but on the other, the loneliness.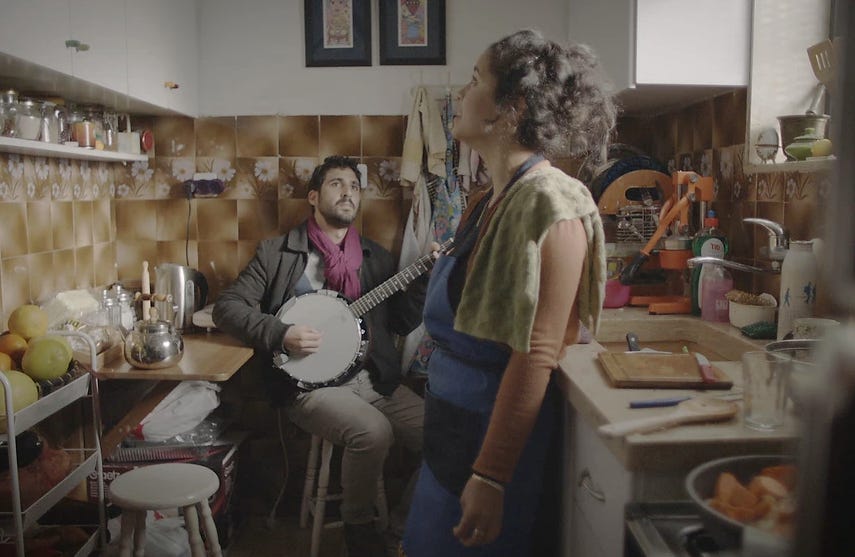 A lot of your music is rhythmically complex, yet it seems that those polyrhythms come naturally to you. Did you grow up with those feels or did you need to study and learn them?
Both. Sometimes the music we grow up with as children doesn't seem like art. You go to school to learn art. You don't learn it at home. Sometimes the things, and the habits, and the routine that you grow up with, doesn't seem like something to appreciate. It took time for me to look back and realize that I was surrounded by beautiful music. I went to academia, and I learned art. At school, they always teach you from the European point of view. You know, everything started from Columbus, blah blah blah. But when you grow up with a Jewish heritage, you have books that are a thousand years old, and poetry, and prayers. The Jewish songs are sometimes sung in Arabic. Sometimes it is a mix between Arabic and Hebrew. The beats are very North African, and the instruments are traditional. But I wasn't attracted to that. I thought that was not really music. It was transparent. It was something that I couldn't consider as art. It took me time to open my eyes to look. To understand that music from the East, or music that is not written with notes, is also music. It is just a different way of learning. You learn it by listening to it. It is a very Eastern way to learn music. We call it, chikuiy (חיקוי), imitating. You listen to something and imitate it. This tool helped me a lot to teach myself. I sat with the old recordings—I listened to a lot of vinyls from the 1950s—and I searched for collectors. I understood that I am sharing something, and that I have a language that I can connect with other people from around the world. The first time I put my video on YouTube, I got comments from Algeria—and I am not even allowed to go there—and from Paris, and Egypt, and I understood how powerful the music from home is. How relevant it is to my contemporary life. I am not just preserving the past. It is something that can also live, change perceptions, and connect me to worlds that I cannot even physically visit. I think that gave me a lot of drive. I started learning Arabic with teachers, how to write and read, and I was already in my 30s.
Do the Moroccans speak a different Arabic? 
Completely different, but not completely different. The sound of it is influenced by the African language that they used to speak before. My grandmother used to speak Tachlihit (תשליחית), before she knew Arabic. She was from a small village of people who lived there from before the Islamic period in North Africa. The Jews lived there for ages—they were there before Islam—and some of them preserved the local language. I just needed to learn Arabic, and then I needed to change its [cadence], because the Moroccans speak with the Tachlihit [cadence]. It is like Arabic, but when they speak it, the dialect is influenced by the Tachlihit, the Amazigh language. 
Does that affect the rhythm and flow as well?
That affects the rhythm. They also have influence from French, Spanish, and they mix everything. They invented a language that shows the history of colonialism. Through a Moroccan speaker, you can feel all the people who used to live in North Africa. That is also in the music, and it is beautiful for me to discover it. It is like being universal. It is not trying to fight influences, you accept them with love. You say, "Ok, I am a little bit French. I am a little bit Arabic. I am a little bit from everything. And I am not apologizing for that." I want to live my whole identity. 
Were your trips to Morocco eye-opening in terms of your music and development?
Traveling to Morocco really changed my life. The first time I visited wasn't for performing. It was a trip that I wanted to make—I was just hiking there and traveling—but when I went back to Israel, I found that I was not the same person again. It changed me. I felt they were lying to me all these years. Morocco is big, relevant, modern, it has a lot of things and a big culture. Why did they tell me to leave the past and to change? To be only Israeli. Why? I can be both. It is something that I don't want to cut out from my life. I started to dig and search and learn Arabic. I also moved to Jerusalem. I felt when I traveled to Morocco that I was reconnecting to my Judaism again. I did the reverse trip that my grandmother did. She came to the holy land, but I felt like I am going to her holy land. I saw all these beautiful synagogues and amazing cemeteries. I never thought I would be excited about a cemetery. But there were these endless cemeteries that make you understand, "Oh my God, so many Jews used to live here." You go to the graves and read poetry in Hebrew—very high Hebrew, amazing Hebrew—that they used to describe the person who died. They have it in two cemeteries, in Essaouira and in Tangier, in the North, really beautifully. It is a Jewish experience that everybody should go through. When I opened the door to my Moroccan side, by accident another door opened up for me, and when I came back to Israel I wanted to live in Jerusalem. I suddenly felt reconnected to the whole purpose of leaving Morocco. My grandmother dreamed of living in Israel, she dreamed about Jerusalem, she used to sing about it, and she gave up all her life there to come here. She was unfortunately located in the south, but I wanted to fulfill her dream. I decided to live in Jerusalem. To keep her heritage here in the middle of the holy land, and to spread it to the world. 
What is the story behind the video you did at Jimmy's Parliament in Jerusalem?
When I moved to Jerusalem I found a little place, they call it hamara. In the old Mahene Yehuda marketplace, sometimes, you find between the vegetables stands and the stores, you can find an empty store, very dark, with men playing cards and drinking in the middle of the day. That's called hamara. When I went to Morocco, I understood that this is something they borrowed from Islamic countries. The men who don't work anymore, the old guys, they also want to leave the house in the morning. They go to the market, drink, play, and talk about life. They fill the day with something, and I found one store, which was Moroccan in its vibes. They play Moroccan music there. I went inside and I met this Jimmy, who calls his place Jimmy's Parliament. He has a lot of photos of the history of Jewish Moroccans here in Jerusalem. I was amazed. They used to have a scene, and the music lived during the cultural oppression of the melting pot of Israel. It used to live inside houses, like underground music. They used to say, "Tomorrow we go to Simon's. You bring the oud. Maybe you can call a violin player from Ramallah. Bring another player from Gaza." I am talking about the 1950s and 60s—not now when we're all closed up. But back then, I understood they used to have a scene of Moroccan haflah (Arabic for a formal music gathering), and also an Arabic haflah. Jimmy is this kind of guy. Everybody is invited to his place. Sometimes, you find Muslims and Jews sitting together, drinking, and talking about the old times of Jerusalem. When Indie City invited me to make a video, I said I want to do it at Jimmy's place. I picked a song that everybody would know and sing along with me—a song from the 1950s from the old vinyl, "Muhal Nensah"—it is a Sliman Elmaghribi song. Sliman Elmaghribi's real name, his Jewish name, is Shlomo Benhamou. I found those musicians used to play a lot with their names. They had a French name for the French audience, an Arabic name for the Arabic audience, and they had the Jewish name they were born with. Multiple identities. I performed with my new band inside that tiny place, Jimmy's Parliament. Everybody was there. They were singing, and they knew the lyrics, of course.
Those people in the video are the regulars?
Yes, they need this music straight into their blood. They can't live without this music. When you start to sing to them, they say, "Ahhhh," as if they heard the best tune in their life. It's because they live inside these memories. Jimmy has a lot of interesting stories of what it was like to be a Jewish immigrant from North Africa back in the 1950s. Jerusalem was separated back then, and then it was reconnected, and he has a lot of interesting stories about cultural partnerships. 
Tell me about the tribute you did to the Jewish Moroccan singer, Zohra Al Fassia.
Zohra Al Fassia was a beautiful singer. I call her the Billie Holiday of Morocco. She had a rusty voice, and she was really a soul singer. The situation of women back then was terrible. They were forced to get married very early. Zohra was forced to get married when she was 14. She had three kids before she was 18, but she decided, "F- it, I am going to be an artist. I am going to make it in my own way. I am not meant to be a mother." I spoke to her family. I understood the difference between how her kids experienced her and how her grandchildren did. Her grandchildren really love her, but her kids said that she wasn't a good mom… But it gave me a lot of inspiration, because I saw a woman who didn't follow the same path as everybody else. She struggled to be an artist in a world that said to her, "You cannot be an artist. You have to be a woman. You have to be a mother." In a way, I felt the same. In the religious world, they wanted me to be a mother. They didn't want me to sing and be an artist. It wasn't my job to do it. Men did it. Zohra was also a big inspiration for me also because of her art. She took different songs from all over North Africa—Algerian songs, Tunisian songs—and she gave those songs her own interpretation. You couldn't miss the blues in her voice, and I really loved her.
Where do her grandchildren live? 
They are spread all around the world. She has family in Los Angeles. I am in touch with her niece, and she told me a lot of things about Auntie Zohra [laughs]. The way she used to smoke and drink before every concert, and to live life like a man. She wanted to celebrate. She was a really tough character, but also very merciful. Like all the Jews, she dreamed about coming to Israel. She was in the top of her career in Morocco. She left everything, came here, and sadly finished her life neglected. Nobody knew what she was there. That tragic story also interested me. I think it was a symbol of that first generation, and the sacrifice they made in order to fulfill a dream of a thousand years. I don't think it was appreciated. I knew the story of Zohra from the poem by Erez Biton, who is a very famous poet in Israel. Erez Biton is a winner of the Israel Prize. He is a blind poet, and he wrote a poem about Zohra describing poetically the situation of immigration. To see a woman who used to be something, and to see her living in a tiny Agency apartment, with the carpets from the king on the one hand, but the [leftover] sardines in the other. She used to wear a crown every time she went on stage, and sometimes alone in her home, she wore the crown and put on makeup. It is really a story that symbolized to me the sacrifice of a woman who decided to give it all up—after all her struggles in the man's world—and to come to Israel. I wanted to give her the respect she wanted. In the last article before she died, she was interviewed by Maariv, a newspaper in Israel, and they asked her, "What do you want people to remember?" And she said, "I only want them to remember that there was a Zohra Al Fassia."
Do you smoke to get your voice ready before the shows?
No [laughs]. I am not a smoker. But I definitely drink some arak or wine. 
Photos: Top (in Zohra Al Fassia t-shirt) by Amit Hai Cohen; in kitchen by
Jumana Manna