Dudu Tassa Embraces The Al-Kuwaitis
Prominent Israeli artist Dudu Tassa talks about living his family's musical legacy, and the trans-generational power of music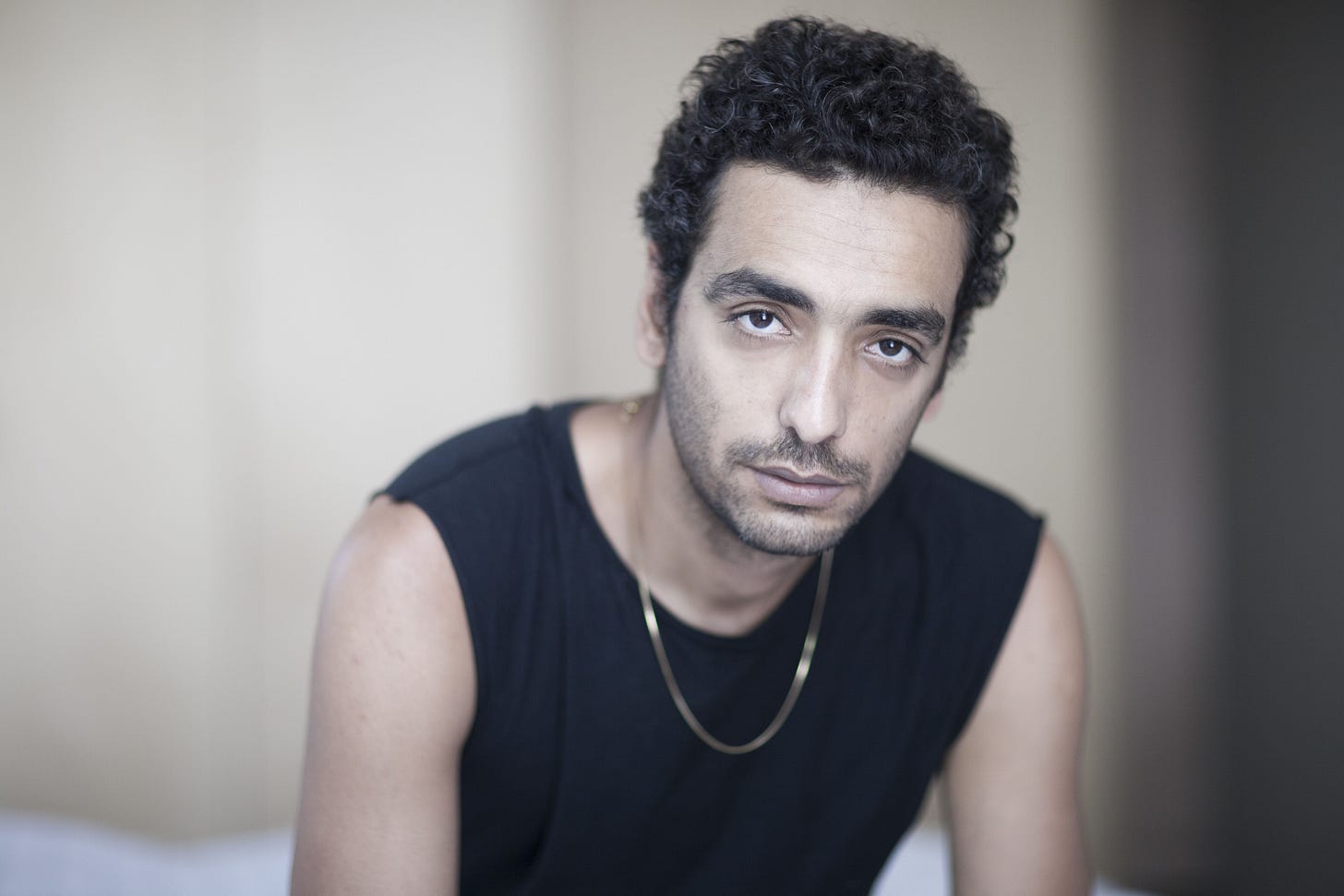 The Hashemite Kingdom of Iraq—which existed as a political entity from about 1932 to 1958—was home to a sizable Jewish community with roots going back to Biblical times. That community's glory days were about 1,500 years ago during the Talmudic period, although it remained a vibrant and important community until the early 1950s. Iraq's Jews, especially under Hashemite rule, were integrated members of society, ran important businesses, and made significant contributions to the arts. They made an impact in music, too, and that included the efforts of Daoud and Saleh Al-Kuwaiti, two of the country's most influential songwriters and performers.
The Al-Kuwaiti brothers were multi-instrumentalists. They played an assortment of Middle Eastern instruments like oud and kamancheh (a type of violin), and also sang. They composed original music, crafted new maqams—different types of Arabic scales or modes—and wrote popular hits, some of which are today considered Middle Eastern standards. At their peak, they performed for the king, filled stadiums, collaborated with other important Iraqi musicians, and even helped establish Bagdad's original broadcast authority. 
But they were also Jewish, and as Jews, despite their influence and prestige, lost everything when—due to rising Arab nationalism and anti-Israel sentiment—they immigrated to Israel in 1951. 
Not that the Al-Kuwaitis were embraced in their new home. Like many new arrivals of Mizrahi and Sephardic heritage, their diaspora histories, cultures, and traditions were shunned in favor of assimilating into mainstream Israeli society. The Al-Kuwaiti brothers settled in the working class Hatikva neighborhood in Tel Aviv, learned to speak Hebrew, opened an appliance store, and played music on the side at local cafés and at occasional celebrations within their community. Their days as celebrities were over, and to make matters worse, Saddam Hussein—during his tumultuous reign as ruler of Iraq—banned their music, and attempted to erase their legacy, even re-crediting some of their popular songs as, "traditional."
However, despite those setbacks, they weren't destined for obscurity. 
Daoud Al-Kuwaiti died in 1976 at the age of 66. His daughter, Carmela, gave birth to his grandson and namesake, Dudu Tassa, three months later (Saleh died in 1986 at the age of 78). And Tassa, as if by design, followed in his grandfather's footsteps. He started singing and playing music as a youngster. "I didn't really choose music," he says in our interview below. "Music chose me." And by the early 2000s, was established as an important original artist in Israel. 
At some point, Tassa also discovered his mother's collection of about 300 recordings of her father's music. He recorded "Fog el Nakhal," on his 2003 release, Mitokh Behira (מתוך בחירה), which is a Nazem al-Ghazali composition the Al-Kuwaitis used to play. But it wasn't until 2011 that he felt comfortable enough with the complexities of Iraqi music to embrace his grandfather and great uncle's catalog, and reimagine it for a contemporary audience. Starting with his eponymous release, Dudu Tassa and the Kuwaitis (2011), followed by Ala Shawati (2015), and last year's, El Hajar, Tassa went to work on the Al-Kuwaitis' recorded output and compositions. With some songs, he combined tracks lifted from old recordings with new instrumentation and additional harmony, and with others, created new performances featuring updated arrangements and contemporary production aesthetics. 
Israeli audiences weren't ready for the Al-Kuwaitis when they were alive, but they're ready for it now. "It really surprised me when they liked the music," Tassa says. "I didn't think it would succeed in Israel, but it became very popular in a hipster way."
Tassa should be on tour, but due to the Corona pandemic is hunkered down at his home in Tel Aviv. I spoke with him—along with Kinneret Shmueli from his management team, who helped with translation—and we discussed his process reworking music from 70-plus years ago, some of the intricacies of Arabic melody and groove, the resurgence of interest in music from the Middle Eastern and North African Jewish diasporas, and the excitement of opening for Radiohead on their 2017 American tour. 
What's your background and did you speak Arabic at home?
I grew up in a neighborhood in Tel Aviv that is less typical of Tel Aviv—it's more of just a neighborhood, less attractive—and it's in South Tel Aviv. My mother was born in 1947, and she made Aliyah to Israel in 1951, and my dad is from Yemen. We didn't speak Arabic at home. There was Arabic spoken in the neighborhood, but we focused on our identity to become Israeli. It was also a matter of shame coming to Israel from Arab countries, and we were trying to become more Sabra. Arabic was also identified as the language of the enemy, so it was difficult. But today we regret it, we regret that we didn't speak more Arabic at the time. 
Are you familiar with the language and understand it, or did you pick that up later on?
I don't speak it fluently. I know a bit of Arabic—a few words here and there—but in recent years I am starting to understand it more. I was hoping that during Corona that I would be able to sit down and learn it, [but I didn't have time]. I hope to do it very soon.
Was the music from your grandfather and his brother played around your house growing up? Were you familiar with it?
It was only about 12 years ago that I began listening to the music and really understanding it. It's not like classical music, rock, or jazz. The language was very difficult and the music was very different. It wasn't like the traditional rock or western music that we were used to. 
But as a musician, you started playing music when you were very young. 
I started singing at a very young age. I didn't really choose music, music chose me. I sang about a lot of things that I didn't know about. Nowadays, when I look back, I think I had a nice voice [laughs]. 
When did you start playing guitar?
I started playing guitar when my voice changed when I was a teenager. I was very ashamed of my new voice, so I got a guitar and started playing. When I got to high school, I opted for the music track. They told me I had two options, and I had to choose between either classical music of jazz music. I said to myself, "Classical music doesn't sound right. I'll go with this jazz thing." And that's how I learned about jazz. 
You started recording early, too. When did you start touring and playing shows in clubs?
I started to play in bars and pubs when I was 22 or 23 years old. When I was younger, I was just singing. 
When did you first start recording the music of the Al-Kuwaitis? It looks like you first recorded one of their songs way back in 2003, "Fog el Nakhal," off your album, Mitokh Behira (מתוך בחירה).
"Fog el Nakhal" was the first song I sang from Iraq. But it is not a song that my grandfather and his brother—Saleh and Daoud Al-Kuwaiti (صالح و داوود الكويتي)—wrote. It's a song that they played, but they didn't write it. The person who wrote it was Nazem al-Ghazali (ناظم الغزالي).
If you were aware of the music earlier, why did you wait until 2011 to start up Dudu Tassa and the Kuwaitis?
I had to first prove to myself that I could succeed with Israeli and rock music. It was only when I got a bit bored that I started pursuing the Iraqi music.
You were already established at that point. Did your fans embrace the new music? Were they happy with the change?
It really surprised me when they liked the music. It was against all odds. I didn't think it would succeed in Israel, but it became very popular in a hipster way. 
What was your process when working with the older recordings?
There were hundreds of tapes at my mothers house—about 300 of them—and I started listening to them. It took time until I digested them, and really understood the music. Then I started hearing the melodies in my head. Arabic music doesn't have harmony, only melody. When I listened to the songs, I tried to add harmonies to them, and also to give them a new feeling. I tried to add a new emotion to the melody, and to the words they were singing. 
Were there certain aesthetic considerations you had to take into account when mixing in modern elements?
I started with bass, drums, and something with harmony [like a guitar or piano]. But there are a lot of songs, hundreds of songs. Some are more difficult in terms of their elements and stages, and I wasn't able to crack all of them.
Were you able to incorporate something like fuzz guitar?
I have fuzz guitar in some of the songs. It works together with Iraqi music. The quality is rock 'n' roll.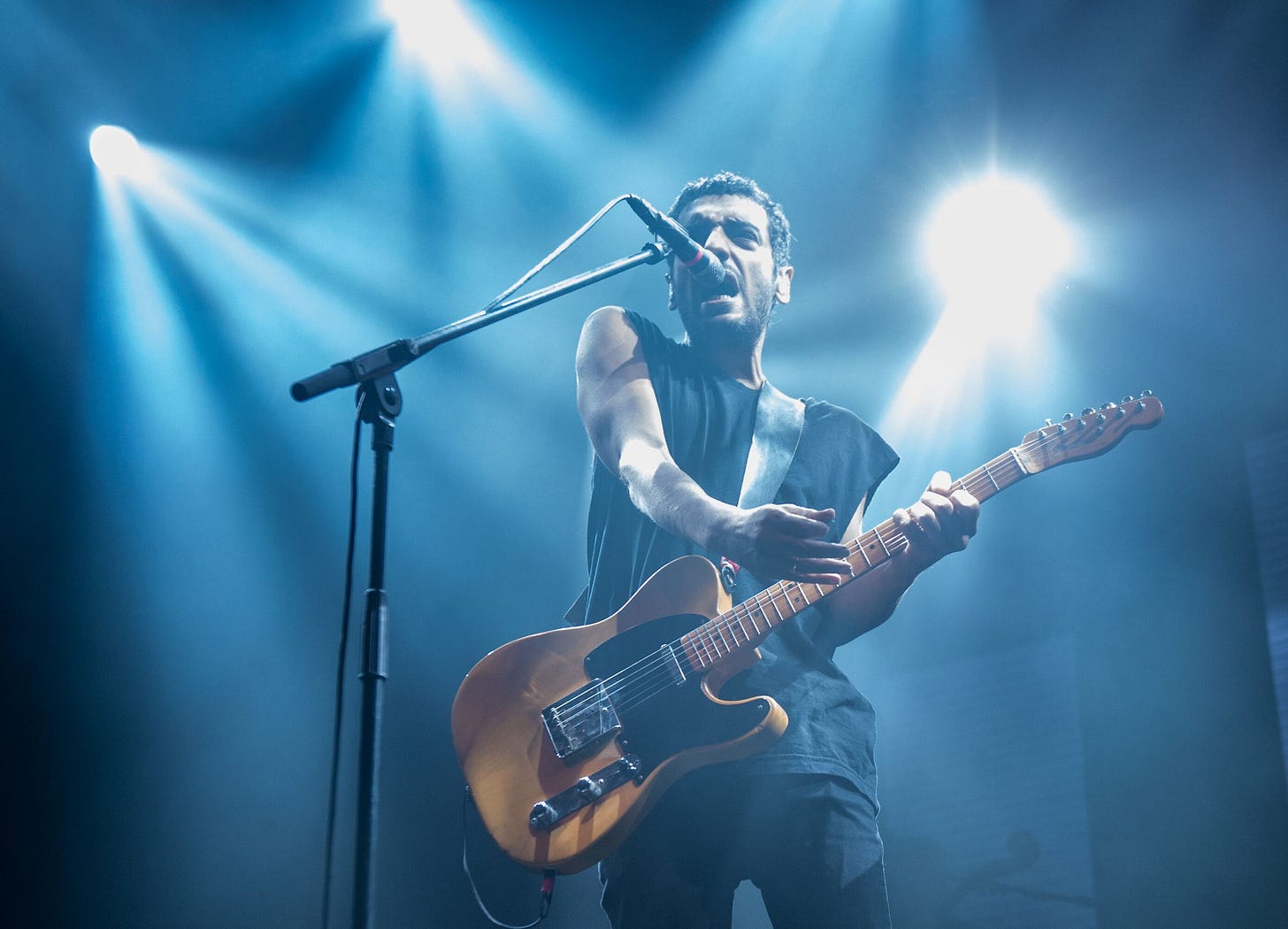 The song, "Ahibbek," off El Hajar, is a good example of how you mix the old and the new.
It's like the songs Brian Eno and David Byrne did with the Lebanese singers, Dunya Yunis and Samira Tewfik, in the '80s, on their album, My Life in the Bush of Ghosts. [Editor: Eno and Byrne sampled those vocalists from older recordings and incorporated their performances into a more contemporary setting.] But I don't use samples that much. I write and I compose, and I work less with grooves and all that. I only use samples if I have to.
How do the grooves work in Iraqi music?
The grooves are in 10. For example [sings]: boom-tak-tak, boom-tak / boom-tak-tak, boom-tak. [Editor: the feel, as described here, is two groups of five, which add up to 10. Count the onomatopoeic syllables, and clap on each "tak."] But I often try to find four, because four is something I understand, too. 
Meaning that you'll try to superimpose a 10 feel over four, or vice versa? 
I don't change the grooves. I also don't change the time, melody, or words. I just change the picture, which means things like the production, the instrumentation, and the harmony. But I don't change anything else. 
How about the melodies? It sounds like you're using tones not found in Western music or on a piano.
Yes, but when there are microtones, I won't play the third of that particular chord. For example, if the chord is A minor, the C is a little bit flat, and I won't play it. Or in other words, in A minor, I'll skip the third because it's a quarter tone that's between B and C. 
So you won't play it at all?
Most of the time, no.
There's another song on El Hajar, "Hadhri El Chai," and it sounds like you're hitting quarter tones in the vocals. 
Yes. There are two quarter tones in "Hadhri El Chai." [Sings it and, obviously, nails it.]
Is that quarter tone part of the maqam, or scale, that they use?
Yes. There are a lot of maqams. I don't know all the maqams, but there are a lot of them. But I can't explain what a maqam is to you [laughs]. It is an Arab scale. I can hear it. I can sing it. But I can't explain it. There are people who specialize in it, and there are Arab musicians who play in my band, and they can explain it. There are also a lot of academies and the music students can explain it as well. But I can hear it, and I can sing it.
When you take a guitar solo in one of these songs, are you improvising by ear, and hearing within that family of sounds?
Yes, but when I am singing, it is something very natural. I don't know how to explain it. I can sing the maqams—and I don't know their names—but when I play, I know modes and chords and notes. But when I am singing, it's not like that. I am not thinking when I am singing.
It's from the heart.
I don't know, maybe [laughs].
What did your grandfather and great uncle do that was revolutionary in Iraqi music, and how did they change things?
First of all, they invented new maqams , which are called, "maqamat"—that's the name of those maqams that they invented. Also, they performed to the most influential people in 1930s Kuwait and Iraq, including the king. They performed so many songs—they produced over 800 songs—and played for the king, at important functions, in stadiums, and on the radio. 
What was their relationship? Saleh, your great uncle, wrote the music, and what did your grandfather, Daoud, do?
Daoud sang and played oud. Saleh composed and wrote the songs, and also played kamancheh, which is a type of violin. He knew how to play the kamancheh when it sat upright, on his lap, but he usually played it western style, on his neck. 
A person whose name comes up a lot when discussing your music is Yair Dalal. Who is he and what is your relationship? 
Yair Dalal is a musician who helped me understand and connect to the music when I started this process. He is the middle generation between me and my grandparents. He is a person who is holding the flag of Iraqi music in Israel. He continued the legacy of the Kuwaitis in a way, in terms of bringing the Iraqi music [to Israeli audiences]. I was communicating with him to understand the music, and the process of relating to my grandfather and his brother's music. But I am not related to him. 
What is your goal with this project? Do you see yourself as a revivalist or innovator? 
I just enjoy giving the music a new image and a new sound. The magic about that is it stays around forever. It is like throwing a bottle into the sea—in a way, it's like putting a letter inside a bottle and throwing it to the sea—it stays away forever, but eventually returns. For me, that's the value in both reviving as well as bringing my added color to the music. The fact that it [is relevant now, but also that it has staying power], and can impact many generations to come.
What has studying this music and learning about its history taught you about the Jewish experience in the diaspora?
It's clear to me that Jews in the diaspora were very accepted, were very secure in how they lived their lives to a certain extent, and were able to pursue music. They lived in peace, they had equal opportunities—to a certain point—and then, as we all know, that changed, which forced them to immigrate to Israel. When they arrived to Israel, there was a big clash between their culture, and the culture in Israel. There were cultural differences between Mizrahim and Sephardim, and also the fact that it was not as accepted to listen to Arabic music.
When the Al-Kuwaitis arrived in Israel, was their music kept underground? Was it not accepted within Israeli society?
No. It was not at all accepted. It was related to and seen as the language of the enemy. It wasn't common to play Arabic music. They didn't play Arabic music on the radio or at formal events. They were also busy integrating into Israel—trying to learn Hebrew, trying to understand the culture, and trying to belong. 
Did they stop playing music as well?
They opened a home appliance shop. They did continue to play at events, like weddings and bar mitzvahs, of other immigrants who were also Sephardi, and immigrant Iraqis who came with them. But it was more low key in terms of their amazing success in Iraq and Kuwait. 
Nowadays there seems to be a resurgence of people in Israel discovering Jewish musics from Arab lands. Why do you think that is?
I think that the younger generation is already feeling comfortable and self-confident in their belonging as Israelis. They have their identity and feel self-confident enough to investigate their roots, and to experience their culture and embrace their background at the same time. It's a bit more liberal nowadays.
How did you meet up with Jonny Greenwood?
It was in 2004 or 2005, in Israel. It was a coincidence, but we started playing together, and bonded, and since then our families are in touch. Opening for Radiohead was a one-time experience. It was exciting, and very moving, when we were performing on that scale. But since the corona virus outbreak, we haven't performed, and we miss it a lot.
Photos: Top by Dudu Hasson; live by Lior Keter